By Ian Laird
@UneducatedU on Twitter
---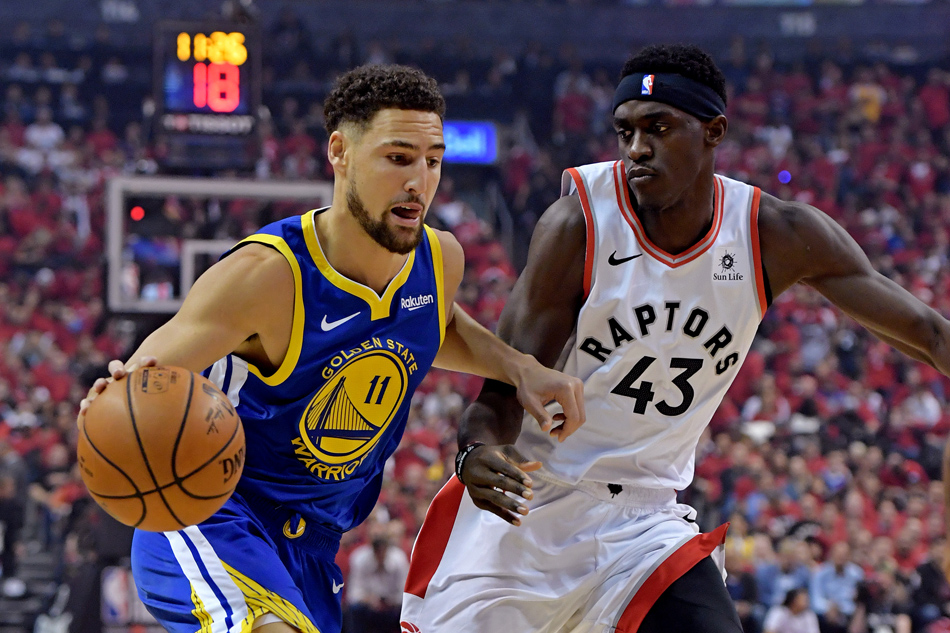 After winning game two away from home to even up the series conventional wisdom would tell you that the Warriors would have the advantage, but you have to think Toronto has to feel confident about the way they have played so far.  It wouldn't be hard to argue that the Raptors have dominated the series so far outside of the third quarter in game two when the Warriors went on that monstrous run.  Further hurting the Warriors' chances are their numerous injury issues that leave what was already a thin lineup even thinner.  The Warriors have gotten some surprise performances from DeMarcus Cousins and Quinn Cook though and they will likely be confident that those two along with their other role players will step up in front of their home crowd.
The Klay Thompson hamstring injury was the biggest takeaway from game two as it now leaves the Warriors with major question marks along their wing rotations.  Klay is listed as questionable for game two while Kevin Durant remains out as his ability to return at all grows even more cloudy.  Steve Kerr has said that Durant won't play until he has at least one practice under his belt and with only one day between games three and four that means Durant would have that minimum of one game if he were to be cleared right after game three.  What seems more likely is that he misses both three and four and returns when the series goes back to Toronto if he ends up returning at all.
Without Durant and with Thompson at least being seriously hobbled that means Golden State's wing rotation could be down to Andre Iguodala, Shaun Livingston, and Alfonso McKinnie for the majority of game three, and it's important to remember that Iguodala isn't completely right either with a calf problem that has been an issue throughout the playoffs.  McKinnie has played fairly well but that has largely come against Toronto's bench lineups and I would expect him to struggle if he is forced to play major minutes against their starters.  Iguodala and Livingston have been fairly quiet in this series as well outside of Iguodala's game two dagger meaning the Warriors could be playing without any real production from their wing players.
A hobbled Thompson not only hurts the Warriors' ability to score the ball, but it also leaves them without one of their top defenders as you would think a less than 100 percent Thompson won't be able to continually run through screens and chase Danny Green or Kyle Lowry all over the court.  If Thompson does play, I would expect the Raptors to target him in the pick-and-roll and use a lot of off-the-ball motion to wear him down.  The Raptors also made a point of targeting DeMarcus Cousins in the pick-and-roll last game as he is still far from full fitness and didn't display the agility or speed necessary to keep up with Toronto's ball handlers on the perimeter.  With Kevon Looney out for the series, Cousins is also the Warriors' only real rim protector and by getting him in the pick-and-roll the Raptors open up the paint a bit more.
Where Cousins needs to punish the Raptors is on the offensive end where he was dominant at times in game two.  Cousins was pushing the pace in transition like Draymond Green previously had been and then in the half court he was operating out of the high post a lot getting his own shot and then spraying the ball to cutters and shooters as well for easy assists.  The Raptors might've been a bit surprised to see Cousins play so many minutes, but you have to thin they will be a bit more prepared for him in game three.  As impressive as Cousins was he didn't necessarily bully Toronto's centers in the post and I wouldn't be surprised to see the Raptors use Pascal Siakam at center more to make them more switchable on the perimeter and give them a faster player to give Cousins more issues on the offensive end after both Marc Gasol and Serge Ibaka were nearly invisible in game two.
Another interesting defensive wrinkle to watch for from the Raptors is the box-and-one defense that they employed for a large stretch of the fourth quarter.  The only way that defense works is when the Warriors aren't placing three or four shooters on the floor as last game you could argue Stephen Curry and Cook were the only above average shooters on the court for Golden State at the end of the game.  The box-and-one defense stifled Golden State for over five and a half minutes as they failed to score from the 5:40 mark until Iguodala's last second three.  Golden State will obviously be more prepared for that defense and using Curry as a screener should create shots as it would effectively mean he is occupying two defenders at once if the Raptors choose to stay in that defense rather than switching out of it.  I doubt the Raptors really expect to employ the box-and-one defense for too long if at all, but it is something that Nick Nurse can have in his back pocket in case he is looking for something to jumpstart his team.
Toronto's half-court defense wasn't the issue in game two though it was their transition defense where they got burned as they failed to pick up trailing players and communicate about who was guarding who.  Obviously, those issues aren't even a factor if they don't turn the ball over as much as they did in game two.  With less shooters on the floor it should be easier for Toronto defend on the break as well as they can play a much more compact defense clogging the lane and then getting out to shooters rather than the other way around where they left plenty of space in the paint for easy transition layups.
Golden State getting transition buckets is a reversal of what happened in game one where Toronto was the team pushing the pace for easy points.  A large part of that was Siakam running the floor and Gasol and Lowry serving as facilitators, the former with his outlet passes and the latter by bringing the ball up himself.  In game two though the Warriors planted Iguodala on Siakam rather than Draymond Green giving them a quicker more athletic body who was more capable of keeping up with Siakam in transition.  They also got pressure on Kyle Lowry much earlier almost as soon as he crossed half court using the half court line almost as an extra defender to generate several turnovers.
In the half court the Warriors were much less aggressive in their double teaming of Kawhi Leonard instead slotting Klay, their best on ball defender as both Draymond and Iguodala as good as they are on the ball are much better as help defenders, onto him and just accepting that a even a hobbled Kawhi Leonard will get his own and that is a better outcome than letting him sling the ball to open shooters out of a double team.  Leonard has filled up the box score so far in the series getting to the free throw line for easy points when he has at times struggled to create his own shot, but he has yet to take over the game like he did previously in the playoffs instead doing it for just short stretches of the game.  Toronto will need him to be dominant especially once Durant returns if they are to have any chance int his series and as part of that he needs to be more willing to attack the rim out of the pick-and-roll especially now that Cousins and not Looney will be the big man rumbling out to try and trap him.  With Thompson hurt I also wouldn't expect the Warriors to keep him on Leonard meaning Iguodala will likely move back to guarding him, and in that matchup, Leonard will have the speed and strength advantage and he will need to use that to his advantage.
The other area where the Raptors need to be more assertive is when Kyle Lowry is handling the ball in the pick-and-roll.  Lowry has been incredibly quiet in this series and as one of Toronto's three shot creators along with Leonard and Siakam he needs to do more.  He has never been the best at attacking off the dribble, but like Leonard he has a massive speed advantage over Cousins and when he draws a switch or pulls Cousins into the pick-and-roll he needs to punish Cousins and get to the basket.  He can also roast Cousins on step back threes something he has worked into his game, and if the Warriors decide to send help defenders when he gets into the lane, he needs to be able to find the open man without turning the ball over.  Lowry also needs to be much more active off-the-ball as the Warriors have planted Green on Lowry quite often in this series and by remaining stagnant Lowry has made it much easier for Green to just roam freely as a help defender clogging passing lanes and eating up space.  Lowry needs to cut to the basket more especially with how often Gasol and Siakam have been hanging out on the perimeter to give Toronto an interior threat.  Lowry also is a good screener for a guard and Toronto can utilize that to either spring guys free or force Draymond Green to switch onto someone else like Danny Green to prevent him from getting an open shot.
With the Warriors' bench thinning Toronto will also have a slight advantage when their starters sit as long as their bench players remain active and energetic on the floor.  They will either be matched up against lesser players if Golden State turns to their bench, or they will go up against starters who will be asked to play 40 or more minutes per game.  With that in mind the bench players' jobs along with providing some energy and scoring will be to further wear down Golden State's starters so when Toronto's starters come back in, they will have much fresher legs.
Playing at home you would bet on the Warriors to win game three, but given the circumstances it would be far from a surprise if Toronto were to get the win and put more pressure on the Warriors to bring back Kevin Durant.
---
Further Reading
2019 Champions League Final Preview
NBA Finals: Game 1 Recap and What Adjustments Should Each Team Make Ahead of Game 2
Contact me at uneducatedandunqualified@gmail.com if you have any questions.